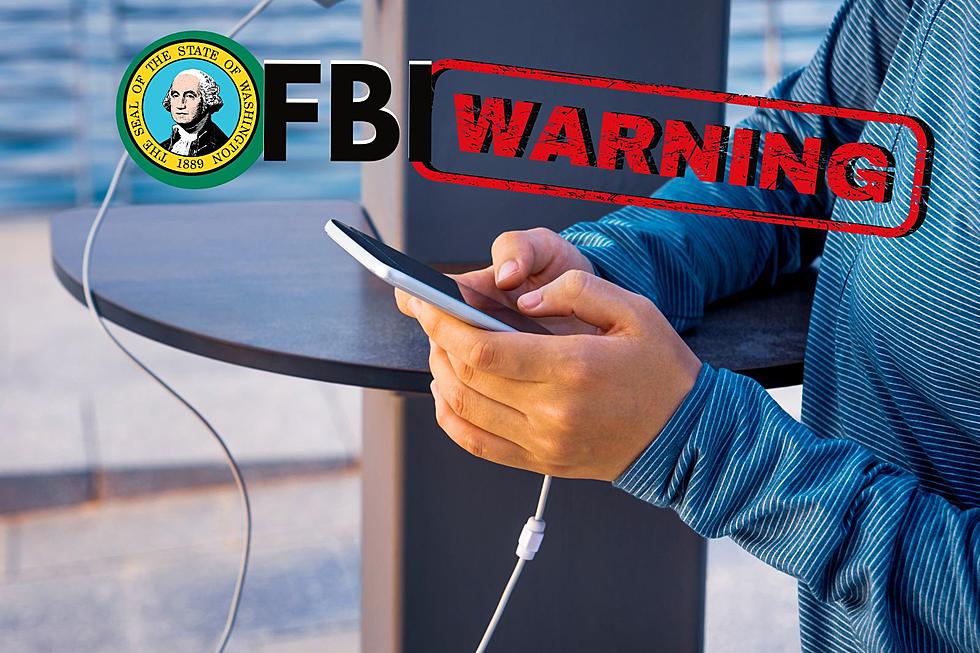 FBI Warns Not to Use These Phone Chargers in Washington or Anywhere
Canva-Getty
FBI Warns About New Dangers with These Phone Chargers
The FBI says you should never use these phone chargers unless you want to get scammed!
New Scammer Methods to Get Your Data
We all have a lot of personal information contained on our personal phones and scammers are always trying to find new ways to get their little greedy hands on it.
There is a new danger that you might not even think about while you are at the airport or at a local restaurant. Now they can load malware and monitoring software on your phone through this new strategy.
FBI Warns Do Not Use These Phone Chargers
The warning from the FBI is an update on the dangers of scammers and how they can get your data. They warn against an old threat of not connecting to a public wifi network, especially with personal transactions or purchases.
They also warn against a newer threat, using public charging stations at airports, hotels, or shopping centers. Hackers can now load software onto your phone while you are trying to charge it at those stations.
The FBI says "Bad actors have figured out ways to use public USB ports to introduce malware and monitoring software onto devices that access these ports." They can not only load software on your phone, but they can download the data off your phone also according to Malwarebytes.
FBI Says Use Only Your Own Charger
The FBI says the best way to keep safe is to use your own power outlet charger and cable. They recommend not plugging your cable into a USB socket, but using only an electrical outlet with your own block and cable.
Another option would be to carry a personal battery or a solar charger instead of plugging into a public charging system putting you at risk. Battery chargers are a great option but you have to make sure they are charged which can be a problem
How Big Is This New Phone Charger Risk?
In an interview with the U.S. editor-in-chief at TechRadar Lance Ulanoff, he says that even with the new FBI warning the risk from public phone chargers is still low.
He says "It's just a lot easier for attackers to hack you by sending a phishing email and getting you to click on it. They don't really want to be sneaking around airports and installing malware on USB charging stations, so the risk is fairly low." He says you are much more likely to fall victim to fishing emails or texts than from phone chargers in an airport but still keep the warning in mind when you travel from home.
See the full list of tips from the FBI by clicking here. Use these tips or next time you will be out with a 10% charge, no charger, and at risk of getting hacked.
Here's 10 of Our Favorite Small Towns in Washington State
Besides fan favorite Leavenworth, here are 10 other small Washington State towns you should visit.
More From Washington State News