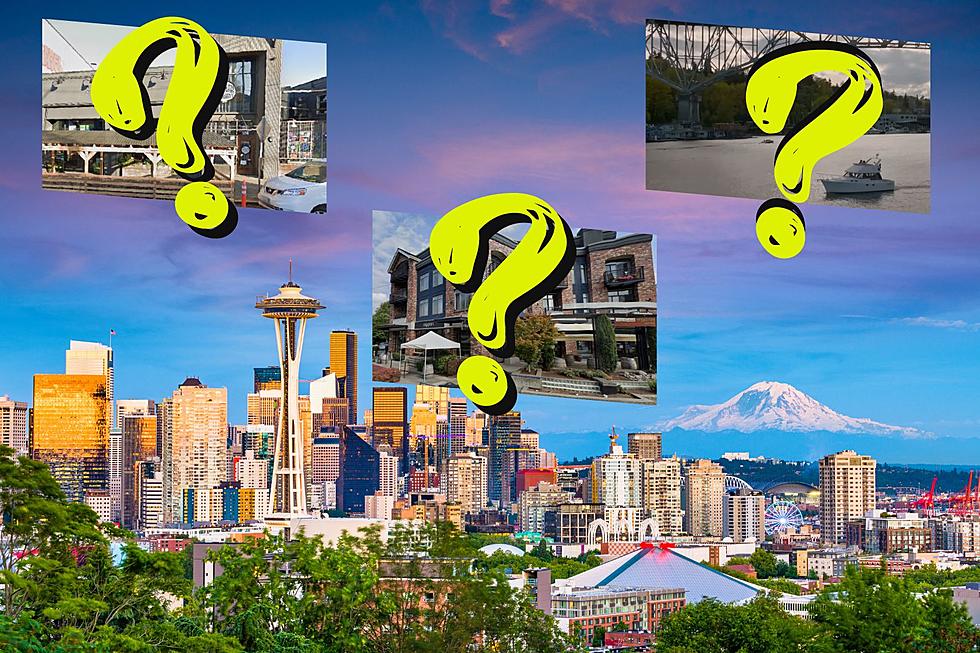 7 Secret Locations on Hit Netflix 'Love' Show Filmed in Seattle
Canva-Getty YouTube Netflix
See all the secret and hidden filming locations for the hit show filmed in Seattle, Love Is Blind season 4!
'Love Is Blind' Season 4 is Based in Seattle
Netflix launched the series 'Love Is Blind' back in the fall of 2018, taking a bunch of single adults and seeing if they could fall in love without ever seeing each other. Now they are on their 4th season, and it is based and filmed mostly in Seattle, Washington.
The show starts with couples meeting in 'pods' where they can only hear each other through a thin translucent sheet. Absolutely no seeing or touching each other while they are dating in the pods. This phase lasts for 10 days. The episode release dates are:

Episodes 1-5 released on Friday, March 24
Episodes 6-8 released on Friday, March 31
Episodes 9-11 released on Friday, April 7
The finale/wedding episode will be released on Friday, April 14
How Singles Finally See Each Other on 'Love Is Blind'
The singles "date" any person they want and are kept apart until they feel enough of a connection to pick one and get engaged. Once a couple decides to get engaged, they can meet face-to-face, propose, and move in together immediately with cameras in tow.
The first week is a honeymoon-like vacation, and then they live with each other for a couple more weeks in a Seattle apartment before the wedding ceremony. Every season the producers pick singles all from the same area so it is easier for them to build a relationship in the future. Season 1 was based in Atlanta, season 2 was in Chicago, season 3 was in Dallas, and the current season is based in Seattle, Washington.
Hidden Filming Locations for Love Is Blind Seattle
During the show, there are multiple places around Seattle that you can see on the show where the singles went to either meet up. These are locations where they go on dates, or even the super nice apartments where the couples live together before their wedding day. The finale of the show still has not aired and even though filming is over, some locations are still kept secret. However, with some sleuthing, I was able to find those secret locations below.
Non-Seattle Love Is Blind Filming Locations
There are 2 main locations not around the Seattle area, but mostly at the beginning of the show. Those locations are the studio where the pod scenes were filmed and then the location of the week-long "honeymoon" trip after they get engaged.
1- LA North Studios - Santa Clarita, California
The beginning of the show where the couples are in pods getting to know each other was filmed at LA North Stages located in Santa Clarita, California. The pods were shipped to Santa Clarita, California for the second season and have remained at the LA North Studios ever since. They don't say which LA North Stage the show was filmed at, but all 3 locations are near each other.
-stage 1 - 5. LA North Studios. Tibbitts. 25045 Avenue Tibbitts. Santa Clarita, CA 91355. get directions.
-stage 6. LA North Studios. Rockefeller. 24834 Ave Rockefeller. Santa Clarita, CA 91355. ...
-stage 7 - 8. LA North Studios. The Ranch. 21401 Needham Ranch Pkwy. Santa Clarita, CA 91321.
You can find out more about these studios by clicking on the official LA North Stages website here.
2- Riviera Maya, Mexico
After 8 of the singles got engaged as 4 couples, they all traveled for a week-long vacation to Riviera Maya, Mexico. The new couples stayed at the TRS Yucatan Hotel, which is an all-inclusive resort and is also for adults only.
The hotel focuses on couples with privacy and personalized service. The average price to stay at this location starts from $300 to $550 per night and suites cost from $700 to $800 per night. You can book your own stay or find out more information on their official website by clicking here.
Seattle Filming Locations for 'Love Is Blind' Season 4
These next 5 locations are where 'Love Is Blind' was filmed while in Seattle, Washington. Some are the restaurants the cast visited and one is the secret apartments the couples lived in through most of the show.
3- Smith - Seattle, Washington
The first scene filmed in Seattle features one single named Zack. He picked the wrong woman (Irina) and realizes it pretty quickly on their week-long honeymoon trip.
There was one other woman named Bliss that Zack had a strong connection with inside the pods. Zack wanted to have a meeting with Bliss to apologize in person and see if she was interested in continuing the show and forgiving him for his mistake.
That meeting took place at a little restaurant named Smith in Seattle, Washington and eventually led to an engagement. You can visit Smith yourself located at 332 15th Ave E, Seattle, WA 98112, or find out more at their official website Smith.com.
4- Repport - Seattle, Washington
This location is a self-pour wine and beer bar where the couples all met to mingle with each other during the show. This spot is called Repport and is located at 700 Broadway E Suite A, Seattle, WA 98102. Check out more about Repport in Seattle on their official website.
5- Elsom Cellars - Seattle, Washington
This is the location in episode 8 where all the couples reunite and a few other singles from the pods were invited by the producers to cause drama. Josh ( a rejected single) tries to make a play for an engaged woman on the show named Jackie after the couples get tipsy.
The wine bar looks nice and spacious. Even though it is not a released location by the crew, you can tell this is the right place by the logo on the window and the decorations on the walls. Elsom Cellars is located at 2960 4th Ave S #114, Seattle, WA 98134. Find out more on their official website by clicking here.
6- Fogón Cocina Mexicana - Seattle, Washington
In episode 6, Tiffany brings Brett to introduce him to friends at a Mexican restaurant in Seattle called Fogón Cocina Mexicana. They seemed to like the location but liked Brett even more and would probably date him if it doesn't work out with Tiffany.
It is located near Cal Anderson Park at 600 E Pine St, Seattle, WA 98122. Find out more about this wonderful restaurant on their website by clicking here.
7- Hidden Love Is Blind Apartments - Seattle, Washington
The nice apartments the couples live in for most of the show are truly one of the biggest secrets of the show. The location is still kept secret by the producers, however, Seattle fans on Reddit figured out the location.
There is even a real estate listing with pictures inside that you can explore the inside of every room and even rent it for yourself by clicking here. Can you say Bed and Breakfast?
These really nice 3-level apartments are located at 209 & 211 26th Ave E, Seattle, WA 98112.
Get the full recap of the latest episodes released by clicking here.
More From Washington State News