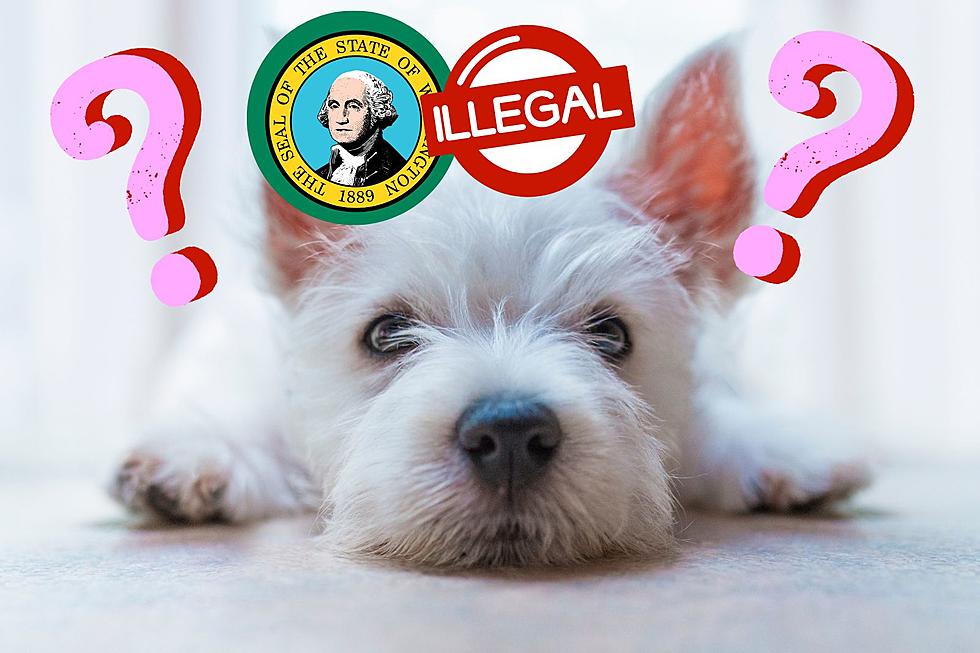 These Cute Washington Animals Are Still Dangerous & Illegal to Own
Canva-Getty
Most of these guys are cute and cuddly, but DO NOT own one for a pet in Washington or get a hefty fine or an even worse surprise!
Animals Illegal to Own in Washington State
According to Washington State law, no person can own these animals except a "zoological park, animal exhibitor, or research facility under an entry permit issued by the director of the Department of Agriculture in consultation with the secretary of the department."

If a person is caught with one of these 5 animals in their possession, what can happen to them? Washington State law the civil penalty is "not less than two hundred dollars and not more than two thousand dollars for each animal with respect to which there is a violation and for each day the violation continues."
Washington State Rabies Law
Washington State passed what is called the Rabies Law (WAC 246-100-197) to help prevent humans from getting rabies. These animals are banned to own pets in Washington State not because they are dangerous, but because of the risk they pose in possibly spreading rabies to humans. The law doesn't just make it illegal, it also bans the "selling, bartering, exchanging, giving, purchasing, distributing, or trapping to retain" any of these animals.
These Animals Are Illegal in Washington Because of Rabies Risk
Do yourself a favor and don't have any of these animals as pets or you might be sorry.
1 - Bat
According to the CDC, bats are the leading cause of rabies deaths in the United States. You can get rabies from even small and insignificant scratches or bites. The CDC recommends that "Rabies postexposure prophylaxis (or PEP, which includes vaccination) is recommended for any person with a bite or scratch from a bat unless the bat is available for testing and tests negative for rabies."
2 - Fox
The fox is the 5th most likely animal in the wild statistically according to the CDC to spread rabies. Yes, they look cute, but they are wild animals and should be given space. If you see any of these animals ( fox, coyote, skunk, raccoon, or bat) there is no need to be afraid. Just give them space and if they look sick, call your local animal control officer. If you think you have been exposed to rabies, call your health professional immediately.
3 - Skunk
You can not get rabies from the blood, urine, feces, petting the fur of a contaminated skunk, or by the spray. You can get infected with rabies from a skunk if you are bitten or scratched by one that is rabid. Skunks are the 4th most likely animal to be found with rabies in the United States according to the CDC.
4 - Raccoon
The raccoon is the most common carrier of rabies in Canada. Besides being scratched or bitten by an animal infected with rabies, you can also get infected by exposure to the saliva of a dead infected animal. Some signs you might notice if a raccoon or any animal has rabies might be staggering gait, erratic wandering, discharge from eyes or mouth, wet or matted hair on the face. high-pitch vocalizations, self-mutilation, or chewing on itself.
5 - Coyote
Because humans have very limited contact with these timid animals, statistically they are not a high risk for catching rabies in the wild according to ForFoxSake WildLife. The risk is much higher if you are trying to keep one as a pet. If you see a coyote that looks sick or aggressive, just keep your distance and call your local animal control.
The 7 Worst Natural Disasters in the History of Washington State
Washington State is a great place to live but occasionally the state has been struck with some earth-shattering natural disasters. Here are 7 disasters that really wrecked the state.
More From Washington State News