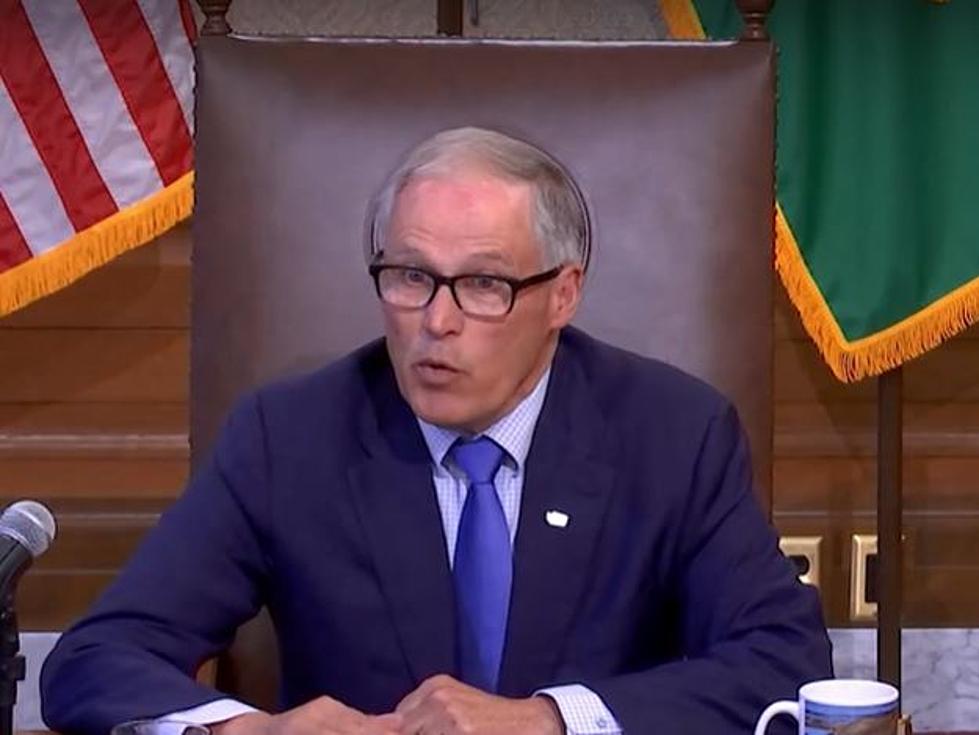 Inslee blasts FERC pipeline expansion ruling despite limited environmental impact
(The Center Square) – Washington Gov. Jay Inslee condemned a ruling Thursday by the Federal Energy Regulatory Commission to allow expansion of a natural gas pipeline crossing the Pacific Northwest from Canada to California.
FERC's chairman, appointed by President Joe Biden, said there was no evidence that the expansion would significantly increase greenhouse gases or present major adverse climate effects.
"Today's decision by FERC flies in the face of what is morally and economically necessary to protect our communities from the worsening impacts of climate change," Inslee said in statement regarding the GTN Xpress pipeline project.
"Expanding this fossil fuel pipeline for 50 years—until 2083—saddles our children and their children with climate harm and fossil fuel costs. This fight isn't over," said Inslee.
Similar opposition was voiced by Oregon Gov. Tina Kotek, U.S. Senators Patty Murray and Maria Cantwell of Washington and Jeff Merkley and Ron Wyden of Oregon, and Attorneys General Bob Ferguson of Washington, Ellen Rosenblum of Oregon and Ron Bonta of California. Like Inslee, all are Democrats.
The 1,377-mile pipeline runs from the Canadian border across a corner of Idaho, then southward into Washington and Oregon before connecting with a pipeline into California. TC Energy of Calgary, Canada, operates the pipeline and wants to expand its volume capacity to meet increased consumer demand.
The project, known as GTN Xpress, would increase the volume by about 150 million cubic feet of natural gas. It calls for the modification of three "compressor stations" – one each in Idaho, Washington, and Oregon – to maintain pressure to move the gas over the long distance.
Opponents have questioned the safety record of the project proponent, TC Energy, which began the Keystone XL crude oil pipeline project that was eventually halted in the Midwest. They referenced a gas pipeline explosion in Virginia this summer and an oil spill in Kansas last December from the existing Keystone pipeline.
Inslee also said the FERC ruling runs contrary to Washington state law requiring local utilities to transition to 100% clean energy by 2045 and to reduce greenhouse gas emissions by 95% by 2050.
"Increasing the capacity of a fracked gas pipeline runs counter to both state laws," said Inslee. If GTN's pipeline operates for 50 years as proposed, he said, it would represent 48% of the region's target greenhouse gas emissions from all sources.
Idaho Gov. Brad Little and fellow Republican members of the state's congressional delegation reportedly labeled efforts as "misguided" by the West Coast states' Democratic leaders to impose their climate policies on other states.
Inslee said the project was also opposed by Washington and California's largest utilities, Puget Sound Energy and Pacific Gas and Electric, as well as the Columbia River Inter-Tribal Fish Commission.
According to press reports, acting FERC chairman Willie Phillips said after Thursday's vote that no evidence was presented to show the project would significantly increase greenhouse gases and the commission determined the project was needed.
A final environmental impact statement issued for the project last November concluded that "modifying and installing the project facilities would result in limited adverse impacts on the environment."
A technique called fracking – injecting high-pressure liquid into underground rocks and boreholes – is used to extract the gas or oil. Opponents to the project said the EIS failed to adequately the potential environmental harm posed by that process.
See Inside Jimmy Buffett's Staggering $6.9 Million Palm Beach Mansion
Jimmy Buffett
sure knew how to live the good life. His former 3-bedroom, 3.5-bathroom, 4,039-square-foot mansion in the exclusive Eden Properties neighborhood in Palm Beach is exactly the kind of laid-back home you'd expect the superstar to relax in when he was off the road.
The interior centers around a combined dining and living room with eye-popping vaulted ceilings topped off by skylights, while a massive wall of mahogany-framed sliding glass doors looks out over the pool area outside. The kitchen is decorated in gleaming white, and each of the bedrooms has its own attached bathroom, while the massive master suite also has sliding glass doors that open to both the pool and a bathroom that looks like it belongs in a high-end resort.
The exterior of the house is just as striking, centered around a sparkling pool of deep cobalt blue. The pool area features plenty of lounging, and a loggia just outside the living room offers open-air dining. There are lush gardens, brick paths that walk through elaborate pergolas and a fountain. The property also features a two-car garage with a guest suite overhead, and it offers deeded access to the beach nearby.
Gallery Credit: Sterling Whitaker
The Center Square
is a project of the 501(c)(3) Franklin News Foundation. We engage readers with essential news, data and analysis – delivered with velocity, frequency and consistency. If you would like to read the original article,
click here.
More From Washington State News