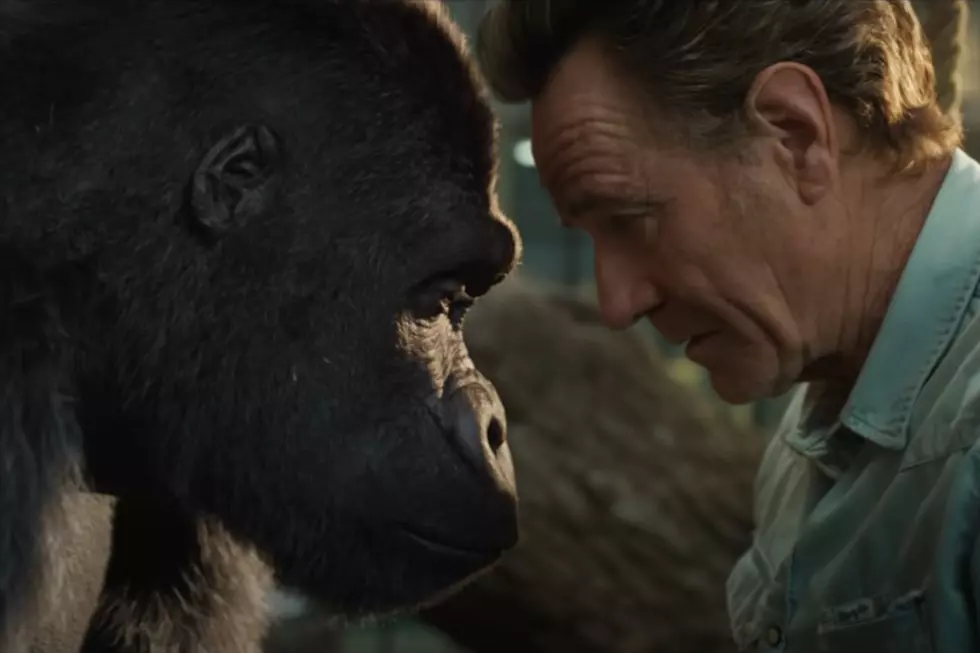 Gorilla from Tacoma Washington Inspired This Disney Kids Movie
credit Walt Disney Studios
This gorilla has been featured in an award-winning children's book and had a Disney movie made about him, but did you know he was from Tacoma?
Gorilla Inspires Children's Book and Disney Movie
There is a wonderful story about a gorilla told in an award-winning children's book that inspired a popular Disney movie. The story in the book is make-believe but based on a gorilla which is completely true. This gorilla was captured as a baby by poachers in Africa to be sold as a pet after being born in 1962. There were originally two baby gorillas that were captured and then sold for $7,500.00 to a man in the United States and then taken to Washington State.
B&I Shopping Center Circus Store in Tacoma Washington
Before B&I Shopping Center was home to this now-famous gorilla, animals were a big part of the shopping center's draw since adding them in 1957. The start of using animals as an attraction happened by accident when the famous Ringling Brothers circus visited Tacoma. The Circus was touring Canada after their stop in Tacoma but could not take some of the animals with them because of permit issues. The owner of B&I Shopping Center, Earl Leonard Irwin, agreed to take care of the animals while the circus toured Canada, and used the animals to draw people in. The strategy worked.
Two baby Gorillas Were Sold and Sent to Tacoma Washington
Both baby gorillas, a male, and a female were taken to Tacoma Washington, but the female died shortly after arriving. The male gorilla was cared for by Ruben Seibert Johnston, who was the manager of the B&I store at that time. He took the gorilla to his home where he lived with his family for a few years before getting too large for them to handle. While the gorilla lived with them in their house, it had his first taste of show business.
Gorilla Films California TV Series Daktari
The gorilla was used in B&I promotions since first arriving in Tacoma and that caught the attention of a California TV producer. He wanted to use the gorilla in a TV series called Daktari as a guest star on the episode "Judy and the Gorilla." They stayed at the Century City Hyatt House and were paid $500 per day for the 3 week's shoot. The gorilla also had special room accommodations like clean sheets in a bed that the gorilla slept in while staying in California. After filming the episode the producer offered to buy the gorilla, but the Johnstons refused the offer and returned to Tacoma.
Live in Tacoma Washington Was Not Pleasant for Gorilla
The gorilla lived for 27 years in a 14 x 14-foot cement enclosure with no outside area to roam in. He spent a large part of his life isolated and only interacting with humans through a strong piece of thick glass. There are stories of the gorilla suddenly slapping the glass, sending store shoppers running like cockroaches. He seemed to enjoy the reaction according to an interview with a woman named Pat Grace that used to shop there according to History Link. She said "he slapped the glass and had people scattering. He had people every which way. It was like it amused him." There are also stories about the gorilla flipping the bird to people through the glass.
The Gorilla Was Named Ivan
The gorilla that lived in Tacoma for 27 years was named Ivan by the children of Tacoma Washington with a contest. The shopping center put up a $500 cash prize with one stipulation. The names had to start with the letters B or I. Ivan was the winning name and was given to the male gorilla that survived. After 27 years of living at the shopping center, the owner of B&I died of cancer and public pressure started on finding a better home for Ivan. Michael Jackson reportedly made an offer to buy Ivan in 1992 sending him to Neverland Ranch. The deal never happened because they could not find a female companion for Ivan. Finally, after a documentary called Urban Gorilla was broadcast in 1991, steps were started to move Ivan to the Atlanta Zoo.
Ivan the Gorilla Moves to Atlanta
After not having any contact with other gorillas or outside since he was taken from Africa when he was a baby, Ivan moved to the Atlanta Zoo in 1994. While at the zoo, Ivan became very famous for his interesting personality and his painting. Yes, Ivan was a world-famous painter and had quite a talent for it according to his caregivers. They would attach a paintbrush onto PVC pipe so it was easier to handle, and Ivan seemed to love it. His favorite color to paint with was red. The Zoo learned they needed to give him other color options or he would use only red in his paintings. After living many more years outside with other gorillas, Ivan died on Tuesday, August 21, 2012, at the age of 50. He experienced complications while under anesthesia during a medical exam.
Ivan's Legacy to the World
After Ivan's death in 2012, a children's book named "The One and Only Ivan" written by author K. A. Applegate won the Newbery Award. The book changed some details of Ivan's life but was still loosely based on him. The silverback gorilla in the story lived in a cage at a mall and is told through the eyes of Ivan the gorilla. Eventually, the gorilla in the story is freed because of his painting and moved to a zoo almost like the real Ivan. The book was then adapted by Disney and filmed originally for theaters but was released on Disney+ instead because of the pandemic. "The One and Only Ivan" was released exactly 8 years after Ivan's death on August 21, 2020. It holds a Rotten Tomato score of 71% but is still called a "heartwarming event for young viewers." It is hard to believe that all of this started with a little gorilla being taken from Africa and moved to a shopping center in Tacoma Washington. We miss you Ivan but are glad you are finally truly free!
44 of the Best Musicians to Have Hailed From Washington State
We all know about the influential grunge scene of Seattle that brought the end of hair metal at the dawn of the 1990s. But did you know even more artists have called Washington home? A lot of these artists come from Seattle but some come from Spokane and even the Tri-Cities.
More From Washington State News