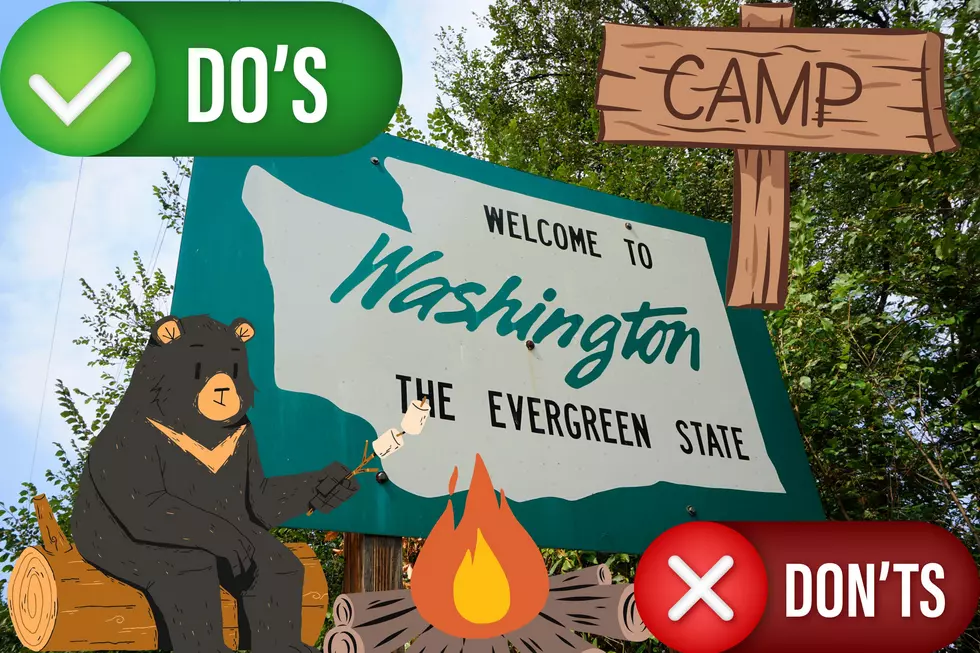 18 Things You Need To Know About Camping In Washington State
canva
What Are Some Do's and Don'ts About Camping In Washington State?
Are you ready for a camping adventure in the Evergreen State? 
From the snow-capped peaks of the Cascade Mountains to the rocky beaches of the Pacific Ocean, there's no shortage of outdoor activities to explore and I've lined up 18 things you should know if you're going to be camping in Washington State.
Here Are Some Good Rules To Follow When Camping In Washington State
But before you head out into nature, it's important to know the dos and don'ts of camping in Washington State. 

Do's When Camping In Washington State
• Get familiar with local weather conditions before you set out. Be sure to check the forecast so that you can be prepared for any unexpected changes in temperature or precipitation. If you plan on visiting higher elevations, be aware that conditions can change rapidly and be much colder than expected.
• Always practice leave no trace principles while camping. This means bringing all your trash with you when you leave and not damaging any trees, plants, or wildlife. It also means leaving campsites looking better than when you arrived—so pick up any trash left behind by others.
• Bring plenty of water and food with you. This is especially important if you're planning on hiking or exploring remote areas where access to supplies may be limited.
• Make sure your campfire is completely extinguished before leaving your campsite. The last thing anyone wants is an accidental wildfire caused by careless campers!
Don'ts When Camping In Washington State
• Don't feed wild animals—not only can this encourage them to become too friendly with humans (which can be dangerous), but it can also disrupt their natural feeding habits and lead to health problems for the animals themselves.
• Don't forget to bring insect repellent if necessary! Mosquitoes can ruin a good camping trip if they become too bothersome, so make sure that you have some bug spray handy just in case.
• Don't go off-roading without permission from park rangers or land owners first—this could get you into trouble as well as damage sensitive ecosystems in the process!
• Don't take souvenirs home from state parks—it is illegal and damaging to remove things such as rocks, feathers, shells, etc., from these areas as they are protected by law.
According to the National Park Site, here are 18 things you need to know when camping at a Washington State Park: 
THINGS TO REMEMBER
Discover Pass: Visitors to state parks must display the Discover Pass on their vehicles when visiting state recreation lands managed by the Washington State Parks and Recreation Commission, the Washington State Department of Natural Resources, and the Washington Department of Fish and Wildlife. The fine for not displaying the pass is $99. For information and exemptions, please visit the Discover Pass website.
Park hours vary depending on the weather and season. However, all day-use areas close at dusk. Campers may enter parks until 10 p.m.
Campground check-in begins at 2:30 p.m. Check-out is at 1 p.m.
Campsites cannot be held for someone who might arrive later.
Quiet hours are from 10 p.m. to 6:30 a.m., unless otherwise noted at the park. Engine-driven electric generators may be operated only between the hours of 8 a.m. and 9 p.m.
From April 1 through Sept. 30, the maximum length of stay for the entire camping party in any one park is 10 days. From Oct. 1 through March 31, the maximum stay for the entire camping party is 20 days.
One camping party is allowed per site, with a maximum of eight people per site.
Please use the trash cans and dumpsters to help keep parks clean. Recycling is encouraged in all Washington state parks. In parks with a pack-it-in/pack-it-out program, visitors must carry out everything they have brought in.
Please do not harm wild plants or animals. Feeding wildlife is strictly prohibited.
Wildlife, plants, and all park buildings, signs and tables, and other structures are protected; removal or damage of any kind is prohibited.
Horses are allowed only in designated parks.
Pets are allowed in most state parks but must be under physical control at all times on a leash no more than eight feet long. Owners are responsible for cleaning up after their pets. Pets are not permitted on designated swimming beaches.
Pets are not allowed inside vacation houses but are permitted in designated yurts/cabins.
Smoking is not allowed inside vacation houses, yurts, cabins, or other rustic structures.
Glass bottles or metal cans are not allowed on swimming beaches.
Alcoholic beverages are permitted only in designated campground and picnic areas.
Fireworks are prohibited on all state public lands, including state parks and beaches that front state park lands.
All Washington state laws are enforced in Washington state parks.
With a bit of preparation and knowledge about what's allowed at your chosen campsite, a camping adventure in Washington State should be fun and safe for everyone involved.
Remember that respecting nature goes a long way towards preserving our beautiful state parks—so follow these 18 do's and don'ts of camping in Washington State whenever possible.
Exploring the 6 Best Mountain Towns in Washington State
Washington state is home to some of the most stunning mountain towns in the US.
From the bustling, small-town charm of Leavenworth to the breathtaking views of Snoqualmie Pass, Washington has something for everyone.
Here's a guide to some of the best mountain towns in Washington state so you can plan your next trip!
8 Awesome Places Kids In Washington State Will Love Visiting
Kids will have no problem finding fun things to do during a visit to Washington State.
More From Washington State News